For the full cast list, see below…
What would the festive season be without the magical, uplifting tale of The Nutcracker Prince!? The beautiful dancers of CAPE TOWN CITY BALLET present this extraordinary Christmas narrative of Clara, her brother Fritz, the handsome Nutcracker Prince and the Mouse King.
Audiences will be treated to a sparkling & captivating journey of magic and wonderment and all the feel-good moments of the festive season!
The CAPE TOWN PHILHARMONIC ORCHESTRA accompanies the dynamic dancers of the CTCB for select performances.
Wednesday 7 December at 19h30 (accompanied by CPO)
Sugar Plum Fairy: Kirstel Paterson; Nutcracker Prince: Lêusson Muniz; Queen of the Snow: Hannah Ward; Drosselmeyer: Marcel Meyer
Thursday 8 December at 19h30 (accompanied by CPO)
Sugar Plum Fairy Léane Theunissen; Nutcracker Prince: Kyle Baird; Queen of the Snow: Kirstel Paterson; Drosselmeyer:  Axton Green
Friday 9 December at 19h30 (accompanied by CPO)
Sugar Plum Fairy: Hannah Ward; Nutcracker Prince: Quinton Jacobs; Queen of the Snow: Léane Theunissen; Drosselmeyer: Marcel Meyer 
Saturday 10 December at 15h00 (accompanied by CPO)
Sugar Plum Fairy: Chanté Daniels; Nutcracker Prince: Gabriel Ravenscroft; Queen of the Snow: Mikayla Isaacs; Drosselmeyer: Nicolas Laubscher 
Saturday 10 December at 19h30 (accompanied by CPO)
Sugar Plum Fairy: Kirstel Paterson; Nutcracker Prince: Lêusson Muniz; Queen of the Snow: Hannah Ward; Drosselmeyer: Marcel Meyer 
Sunday 11 December at 15h00 (to recorded music)
Sugar Plum Fairy: Chanté Daniels; Nutcracker Prince: Gabriel Ravenscroft; Queen of the Snow: Mikayla Isaacs; Drosselmeyer:  Nicolas Laubscher 
Sunday 11 December at 18h00 (accompanied by CPO)
Sugar Plum Fairy Léane Theunissen; Nutcracker Prince: Kyle Baird; Queen of the Snow: Kirstel Paterson; Drosselmeyer:  Axton Green
Tuesday 13 December at 19h30 (accompanied by CPO)
Sugar Plum Fairy: Hannah Ward; Nutcracker Prince: Quinton Jacobs; Queen of the Snow: Léane Theunissen; Drosselmeyer: Marcel Meyer 
Wednesday 14 December at 19h30 (to recorded music)
Sugar Plum Fairy: Chanté Daniels; Nutcracker Prince: Gabriel Ravenscroft; Queen of the Snow: Mikayla Isaacs; Drosselmeyer: Nicolas Laubscher 
Thursday 15 December at 19h30 (to recorded music)
Sugar Plum Fairy: Kirstel Paterson; Nutcracker Prince: Lêusson Muniz; Queen of the Snow: Hannah Ward; Drosselmeyer: Marcel Meyer
Friday 16 December at 19h30 (to recorded music)
Sugar Plum Fairy: Léane Theunissen; Nutcracker Prince: Kyle Baird; Queen of the Snow: Kirstel Paterson; Drosselmeyer: Marcel Meyer 
Saturday 17 December at 15h00 (to recorded music)
Sugar Plum Fairy: Chanté Daniels; Nutcracker Prince: Gabriel Ravenscroft; Queen of the Snow: Mikayla Isaacs; Drosselmeyer: Nicolas Laubscher 
Saturday 17 December at 19h30 (to recorded music)
Sugar Plum Fairy: Hannah Ward; Nutcracker Prince: Quinton Jacobs; Queen of the Snow: Léane Theunissen; Drosselmeyer: Marcel Meyer
Sunday 18 December at 15h00 (to recorded music)
Sugar Plum Fairy: Kirstel Paterson; Nutcracker Prince: Lêusson Muniz; Queen of the Snow: Hannah Ward; Drosselmeyer: Marcel Meyer
Tuesday 20 December at 19h30 (to recorded music)
Sugar Plum Fairy: Chanté Daniels; Nutcracker Prince: Gabriel Ravenscroft; Queen of the Snow: Mikayla Isaacs; Drosselmeyer: Nicolas Laubscher
Wednesday 21 December at 19h30 (to recorded music)
Sugar Plum Fairy: Léane Theunissen; Nutcracker Prince: Kyle Baird; Queen of the Snow: Kirstel Paterson; Drosselmeyer: Axton Green
Thursday 22 December at 19h30 (to recorded music)
Sugar Plum Fairy: Kirstel Paterson; Nutcracker Prince: Lêusson Muniz; Queen of the Snow: Hannah Ward; Drosselmeyer: Marcel Meyer
Friday 23 December at 15h00 (Children's Parade – Take pictures with the characters on stage and receive a sweet treat!) (to recorded music)
Sugar Plum Fairy: Hannah Ward; Nutcracker Prince: Quinton Jacobs; Queen of the Snow: Léane Theunissen; Drosselmeyer: Marcel Meyer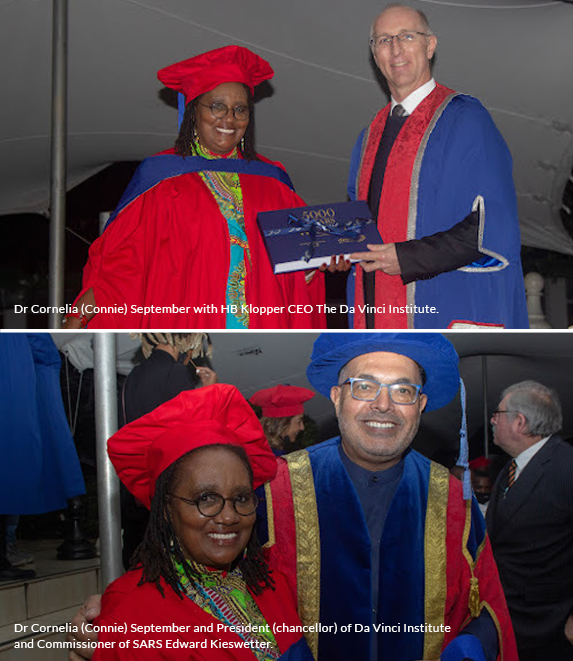 Cape Town City Ballet applauds patron Dr. Connie September who was awarded her doctoral thesis in Education recently. Connie September is one of CTCB's three Patrons and a renowned champion of the arts and ballet sectors… Full article here>>
Cape Town production doyen, Charles Petersen has announced his retirement after serving 47 years as a production manager. Petersen joined then Cape Performing Arts Board (CAPAB) in 1974 as a stage-hand and worked his way up to becoming the production manager. He has worked on numerous productions including; Sleeping Beauty, Giselle, Carmen, and a Christmas Carol – The Story of Scrooge during this time, first with CAPAB and then Cape Town City Ballet. Artscape CEO Marlene le Roux said the production team would always refer to his work and his retirement would bring a huge gap… Full article here>>
INVEST

IN CAPE TOWN CITY BALLET

Covid-19 has presented a time of unprecedented challenges for the arts worldwide, including the complete loss of box office income for Cape Town City Ballet of its entire 2020 programme. We are determined to continue inspiring both loyal and new audiences, as well as nurturing rising talent.

Invest in Cape Town City Ballet today for the training and production programmes of tomorrow. We have 5 ways to invest in Cape Town City Ballet:

1. Once-off investment – SnapScan payment
2. Monthly investment – Setup an EFT
3. Sign up to become a VIP Friend
4. Invest in our long-term Endowment Fund
5. Get a MySchool card

View full details here>
DEAR SPONSORS: WE THANK YOU FOR YOUR COMMITMENT
Your membership funding is invaluable to us in achieving our goals:
• To delight anew our loyal supporters • To inspire new audiences to love ballet • To nurture and grow our young talent